ReSound is a Danish company that has been manufacturing high-quality hearing solutions since 1943. ReSound is part of the GN corporation, a business built on Denmark's Great Northern Telegraph Company, founded in 1869. GN has become an industry frontrunner in cutting edge audio solutions throughout its history, being the parent company to ReSound and the sister brand Jabra that works to develop new solutions in headsets, headphones, noise cancellation and personal listening.
---
---
ReSound LiNX Quattro
Although they have known for many great hearing models over the years, their latest ReSound LiNX Quattro offering is the first 'Premium Plus' hearing solution in the world. With streaming technology, cloud-based remote fine-tuning and cutting-edge rechargeable battery, this is their most advanced model yet.
Recently, the company revamped this model to become the first smart hearing aid to use Artificial Intelligence (AI) in combination with Apple's Siri assistant. The model now has the ability to use AI to learn and automatically adjust to your listening habits and settings as time goes by. Using Siri voice assistant, you can change settings with orders like "Siri, turn the volume in my left ear."
---
Integrated with an Android or iOS app, Siri offers various ways to modify noise cancelation and wind suppression filters, volume control or even turn on a directional microphone. It also enables you to wirelessly make phone calls and stream music and TV.
---
LiNX 3D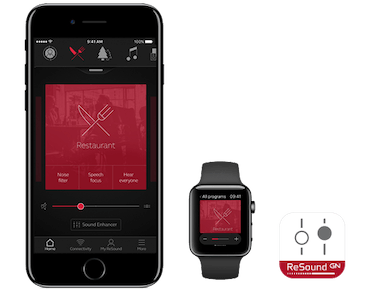 The main line of ReSound products are their LiNX 3D and Quattro models. These hearing aids utilize the latest in ReSound audio technology. Incorporating noise cancellation and advanced microphone management, ReSound hearing aids deliver the advantage of what they call "Binaural Directionality III" to navigate complicated sound environments.
Convenient, sustainable options are also at the forefront of what ReSound offers. LiNX models are available with rechargeable lithium ion battery power for long lasting, easy to maintain power. LiNX also offers smart controls via a suite of apps that make the most of your hearing aids. Easy to use interfaces give you control over sound input, battery power, streaming sources, noise cancellation and even software updates and technical support.
People looking for a way to manage their tinnitus can make use of the ReSound Relief app that makes available multiple approaches to subduing tinnitus. From effective soundscapes that neutralize intrusive noise, to guided meditation and breathing exercises, ReSound Relief takes a comprehensive approach to tinnitus care. The ReSound Relief app can be used separately from your hearing aids or stream directly to your ear canal for maximum tinnitus support.

ENZO 3D
ReSound offers performance at every level, including the industry's smallest hearing aid solution for severe-to-profound hearing loss, the ENZO 3D. Managing severe-to-profound hearing loss requires extra muscle, with hearing aids built to deliver clarity and comprehension. ENZO 3D delivers a spatial sense of sound and helps focus on what's important while dampening distracting environmental noises.