The Swiss company Phonak was established in Zurich in 1947, and are still headquartered in Switzerland in the city of Stäfa. Over the past seven decades, their commitment to hearing aid advancement has resulted in some amazing innovations. Phonak currently operates as a brand of its parent company, Sonova.
---
Audéo Life™
The world's first waterproof* rechargeable hearing aid
Part of the Phonak Audéo™ Paradise family, Phonak Audéo Life delivers crisp natural sound1 and is capable of being submerged in up to 50 cm or 1.64 feet of fresh water, salt water or pool water.
Audéo Life is the ideal solution for those who put their hearing aids under more pressure in physically demanding environments or those looking for a hearing aid that will withstand strenuous activities.
Phonak Slim™
The world's first uniquely shaped left and right hearing aids which follows the natural curve of the head.
The world's first hearing aid with a unique 7° angle to follow the natural contour of the head. Phonak Slim provides unrivaled* sound quality1.
Features include:
Crisp natural sound2
Brilliant speech understanding
Universal connectivity
Rechargeable
Health data tracking
Tracks Steps to promote greater well-being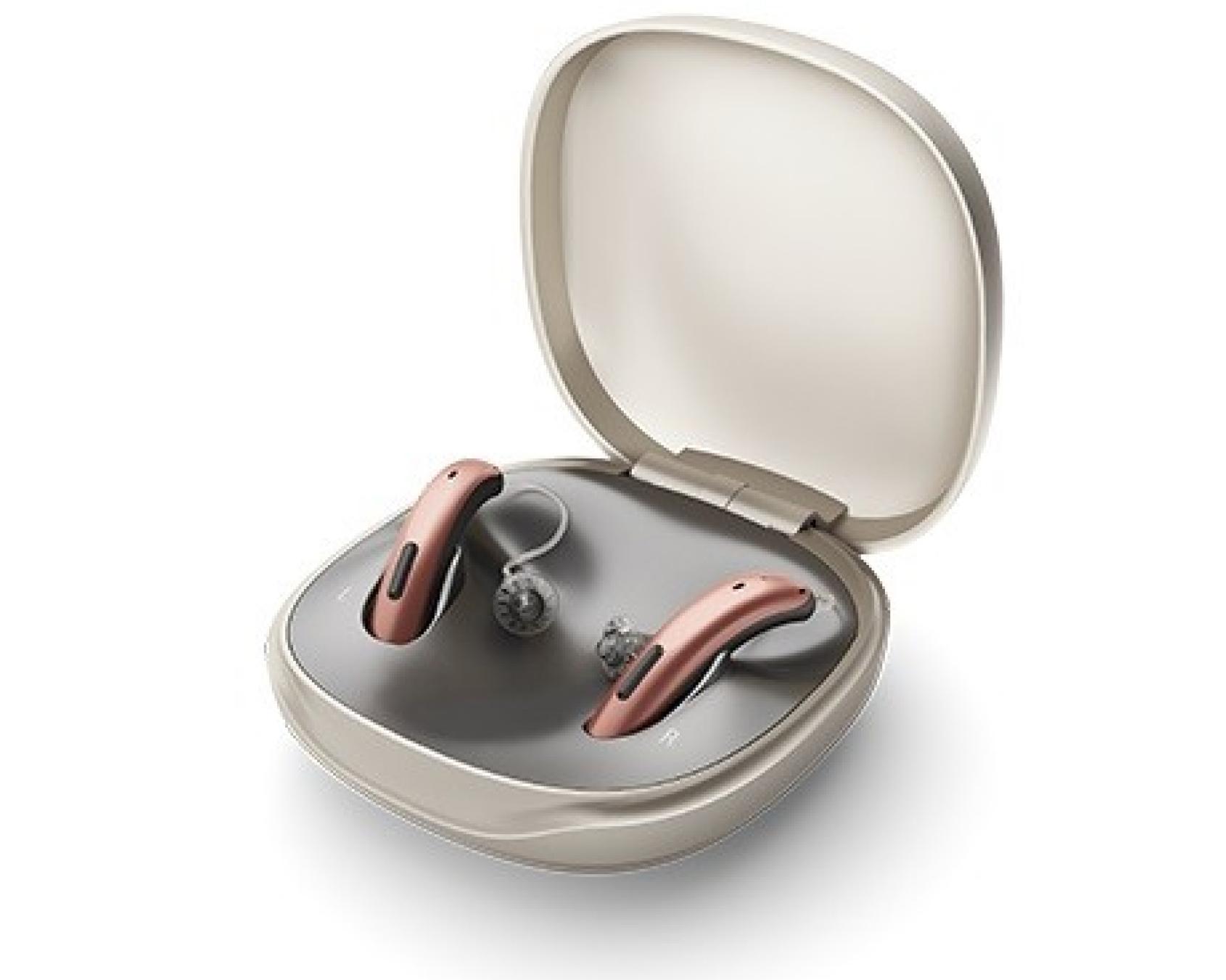 Paradise
The Phonak Paradise is a multifunctional hearing aid that offers an outstanding listening experience with leading industry wireless connectivity. With a range of newly built hardware and software technologies functioning together in tandem, Paradise enables access to subtle layers and sound textures in many settings.
An integrated motion sensor senses when the user moves and speaks and can automatically guide the hearing aid microphones for brilliant speech comprehension. With the support of Paradise hearing aids, you can have hands-free conversations via voice assistants such as Siri®, Google Assistant, or Amazon Alexa ® with a double-tap of your ears.
From a crisp, natural tone, to brilliant speech comprehension, to personalized noise cancellation, the Phonak Paradise opens up a world of pure sound.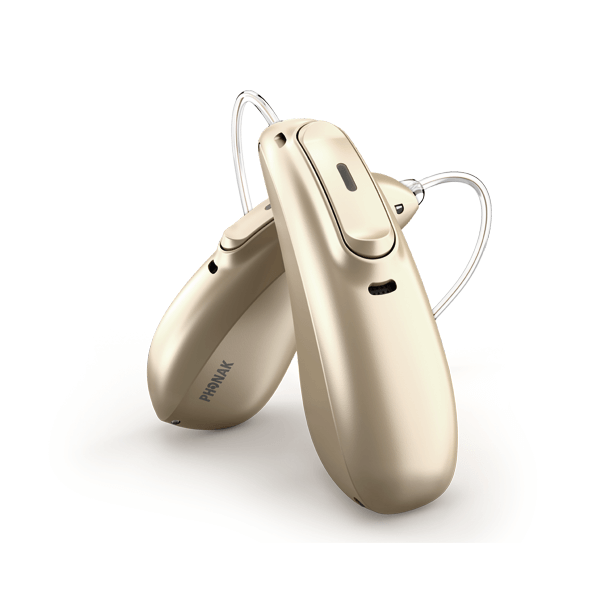 Marvel
The Phonak Marvel hearing aid is a multifunctional wonder. It offers a clearer understanding of speech in noise, reduced listening effort in noise, and top-class streaming sound quality made possible with the SWORD 3.0 chip. The most advanced radio chip ever used in hearing aids, the SWORD 3.0, consists of 42 million transistors with the lowest Bluetooth ® Classic power consumption system. This helps Marvel to connect directly to any smartphone, Android, iOS, and TV.
This technology efficiently responds to users to achieve outstanding sound quality and an improved chance of being happy with their first fitting.
AutoSense 3.0 is equipped with artificial intelligence and continuously scans the audio environment and fine-tunes using over 200 configurations for maximum sound quality. Binaural VoiceStream Technology transmits the complete audio spectrum between two hearing aids in real-time to help comprehend speech in challenging listening circumstances.
Finally, Phonak has developed a leading lithium-ion battery solution that offers enough power to last for a full day of hearing and streaming.
Phonak Marvel Technology Platform
Phonak's latest release is the Phonak Marvel, a revolutionary device that was one of the first to offer true direct universal Bluetooth compatibility with all smartphones.
Marvel combines all of Phonak's innovative technologies to provide wearers with clear listening and wireless connectivity to your iPhone or Android. The myPhonak app allows wearers to make adjustments to their listening preferences and request remote support.
Future Technology
This year, the company is set to release the Phonak Virto Black, an in-the-ear hearing aid (ITE) that incorporates the innovative Marvel hearing technology with the design of a hearable. Virto Black features including universal Bluetooth streaming to any Bluetooth device, hands-free phone calls, and customized hearing settings through the myPhonak app. It will be the first custom-made hearing aid in the world to connect directly to iOS, Android, or practically any other Bluetooth-connected device.
Phonak's Rechargeable Hearing Aids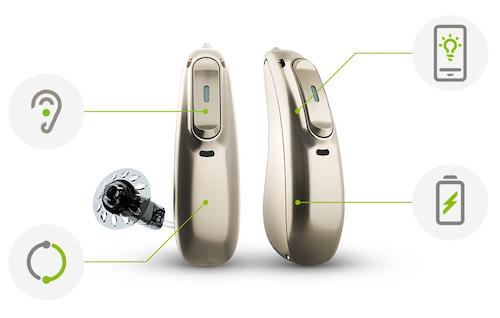 Phonak's achievements include developing the first hearing aids built for single-sided hearing loss as well as introducing the first lithium-ion rechargeable hearing aids. Phonak's products consistently work to minimize space and maximize power. They've broken several size barriers both for components like transistors, microchips and batteries as well as for reducing the overall size of assembled hearing aids. Their push towards smaller, lighter components has made hearing aids easier to wear and more discreet while improving on speed and performance.
Rechargeable hearing aids have proven their worth in convenience, sustainability and reliability. Phonak's lithium ion battery options offer a full 24 hours of function with a full recharge time of just 2 hours.  Disposable hearing aid batteries with their small size and one-time use are often challenging for users with dexterity concerns and can leave someone high and dry if they get caught without a replacement on hand.
Pediatric Hearing Aids
Phonak is an industry leader in pediatric and teen hearing aids as well. Phonak builds hearing aids designed to aid in focus and attention in the classroom and at home to help children with hearing loss thrive in the classroom. Hearing aids like the Roger Focus come in bold customizable colors kids love.