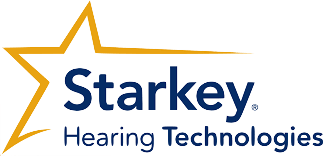 Starkey is the leading American company in the hearing aid industry. Based in Minnesota, Starkey is committed to advancing technology and access to hearing health. Their research into new hearing aid developments is strictly driven by the priorities of people with hearing loss, keeping pace with today's busy lifestyles. Starkey's pragmatic approach has led to user-friendly innovation and durability.
---
The line of products Starkey produces is shaped by their customers' priorities.
Starkey was the first hearing aid manufacturer to introduce Invisible-In-Canal hearing aids that maximize power in an incredibly compact and discreet shape. Their product line features the innovative made-for-iphone Halo iQ and the rechargeable Muse iQ that uses lithium ion batteries to replace standard disposables. With the launch of the Livio AI, the integration of hearing aid into total health is mediated with their Thrive app that incorporates fitness data from sensors within the hearing aid.
The line of products Starkey produces is shaped by their customers' priorities. They focus their research on developments that will be immediately in-demand and extensively test new products to insure they will be intuitive to use. Starkey hearing aids seamlessly incorporate app controls and custom tinnitus relief. With the introduction of the new Thrive app, Starkey seeks to merge healthy hearing and healthy living, honing cognitive acuity and keeping pace with other health metric.
Starkey also maintains the Starkey Hearing Foundation which works to make hearing access possible worldwide. Reaching out to over 100 countries, the Starkey Hearing Foundation delivers education and access to care and hearing aids around the world. Starkey also has initiatives to reach low income people in the U.S. and veterans, as well as a program to recycle hearing aids. The Starkey Hearing Foundation works both behind the scenes and with celebrities to further hearing education, especially talking to young people about the importance of lifelong healthy hearing.