The Swiss company Phonak was established in Zurich in 1947, and are still headquartered in Switzerland in the city of Stäfa. Over the past seven decades, their commitment to hearing aid advancement has resulted in some amazing innovations. Phonak currently operates as a brand of its parent company, Sonova.
---
Phonak's Rechargeable Hearing Aids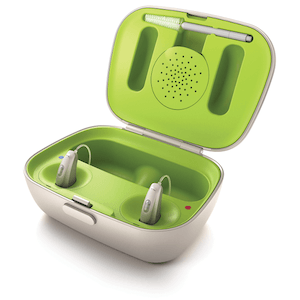 Phonak's achievements include developing the first hearing aids built for single-sided hearing loss as well as introducing the first lithium-ion rechargeable hearing aids. Phonak's products consistently work to minimize space and maximize power. They've broken several size barriers both for components like transistors, microchips and batteries as well as for reducing the overall size of assembled hearing aids. Their push towards smaller, lighter components has made hearing aids easier to wear and more discreet while improving on speed and performance.
Rechargeable hearing aids have proven their worth in convenience, sustainability and reliability. Phonak's lithium ion battery options offer a full 24 hours of function with a full recharge time of just 2 hours. Disposable hearing aid batteries with their small size and one-time use are often challenging for users with dexterity concerns and can leave someone high and dry if they get caught without a replacement on hand.
Phonak's newest hearing aid, the Audeo Marvel, combines all of Phonak's innovative technologies to provide wearers with clear listening and wireless connectivity to your iPhone or Android. The myPhonak app allows wearers to make adjustments to their listening preferences and request remote support.
Phonak is an industry leader in pediatric and teen hearing aids as well. Phonak builds hearing aids designed to aid in focus and attention in the classroom and at home to help children with hearing loss thrive in the classroom. Hearing aids like the Roger Focus come in bold customizable colors kids love.