Unitron is another Sonova hearing aid brand, based in Canada with five decades of experience. Founded in 1964 with headquarters in Waterloo, Unitron is the leading Canadian hearing aid producer. Unitron is guided by user comfort and award-winning product design, earning five Red Dot Design Awards in the past three years.
---
Moxi Fit R
Unitron is justly proud of its most technologically advanced offering, the Unitron Moxi Fit R. This is the world's smallest rechargeable hearing aid. The latest platform for hearing aids by Unitron is Tempus, which overcomes noise and crowd conversations to deliver unparalleled speech comprehension. Unitron hearing aids ' Tempus range is 50 percent more reliable and 36 percent faster in speech recognition and position compared to Unitron's previous platform.
Unitron creates hearing aids with a wide range of available features to fit every lifestyle.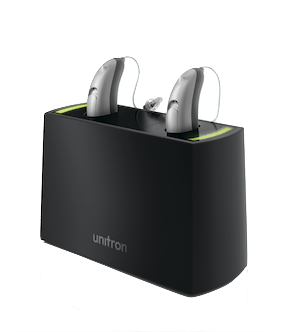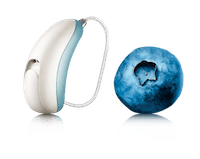 Unitron creates hearing aids with a wide range of available features to fit every lifestyle, from basic functionality and manual control to premier digital features and automatic adjustments. The stable of Unitron products has also turned a corner with rechargeable convenience. Recently, Unitron added its Max SP hearing aid, built for severe-to-profound hearing loss, to its list of models available with rechargeable batteries.
With a customer-centered approach to product design, Unitron channels significant research into making its hearing aids comfortable to wear and easy to use. Unitron's development philosophy is based around intuitive functionality that is supported by clear design and aesthetics. This means users are treated to a device that is easy to operate and adjust and app interfaces that give a simple path towards connection and control.
Pushing towards smaller, lighter profiles, Unitron builds some of the most discreet hearing aid models on the market today. They also concentrate on delivering excellent sound quality that can keep up with a busy workplace or a crowded cafe. Unitron's Moxi represents the flexibility of their hearing aids, with a range of power levels available to keep up with your lifestyle, as well as connectivity with a wide range of digital devices.