Oticon is a world leader in hearing aids with over a hundred years of history backing it up. Founded in 1904 by Hans Demant, Oticon was a labor of love from the start. Impressed with new hearing technology worn by Crown Princess Alexandra, Demant sought to bring new hearing assistive devices to his wife and countrymen in Denmark. The company gradually transitioned from importing hearing aids to their development and manufacture, spurred forth by the international restrictions imposed by World War I and World War II.
---
Oticon is focused on developing technology that matches the way the brain interprets sound.
In the mid-1960s Oticon became a global company, and paved the way for many modern standards in hearing aid technology. In the late 1970s, Oticon brought the first discreet in-the-ear device to market. Then, at the start of the 1990s, DigiFocus, the first completely digital sound hearing aid, was introduced. The company, long headquartered in Copenhagen, now calls Strandvejen home, but reaches over 100 countries with its cutting-edge hearing products.
Oticon is focused on developing technology that matches the way the brain interprets sound. This has led to their unique approach to sound processing called BrainHearing. Relieving cognitive strain is a huge advantage of treating hearing loss. With BrainHearing, sound is delivered to the brain in ways that are easier to adapt to and interpret. The instantaneous processing behind BrainHearing is capable of discerning multiple conversations and rich sound environments to help you pay attention to what is important.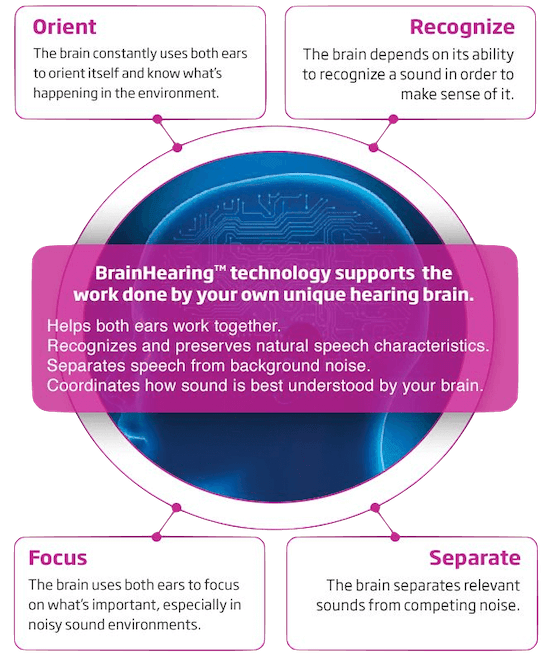 Connectivity
Not only does Oticon have a patented approach to managing sound, it is also forward-thinking in terms of digital connectivity. With the Oticon Opn, users can connect their hearing aid not just to their smartphone but with a wide range of other digital options. Alerts like messages from a digital doorbell can be streamed direct to your ear, so you won't miss a thing. Oticon is also preparing to launch their AI driven Kaizn platform that can learn from your preferences and needs to automatically tune your hearing aid to the demands of the sound environment.